What is Beedle?
Beedle is an Intuitive planning tool inside Microsoft Teams for teachers who want to store lesson resources. Beedle allows teachers to organise and store lesson resources and documents needed on a daily basis while also providing a helpful overview of these resources for each Team. Working with the collaborative nature of Teams, means beedle ensures colleagues can seamlessly contribute, edit and upload useful resources improving efficiency within your school. Beedle provides easy navigation to stored resources needed for the day, by providing a 'link to calendar' option; reducing the time spent searching for documents at the start of each day. Although developed for teachers and those working within education, beedle enriches any document-rich sector that would profit from a file organisation system that encourages seamless and collaborative working.
How much does Beedle cost?
Beedle is a completely free add-in within Microsoft teams!
How do I add Beedle to my Microsoft Teams account?
Beedle is only visible to Education users on Microsoft teams. In order to add Beedle to your Microsoft Teams, the system admin needs to approve the app and it's terms and conditions. For further information, see our "How-To" section.
Can I use Beedle without Teams?
No, Beedle is an add-in for Microsoft Teams only.
How can I create or upload a new file?
All files must be saved within a plan. To create or upload a new file, you must first select the plan you wish to save the file to. If this plan already has files saved within it, click on 'Add another file'. If the plan has no files already, click on 'Add first file'. You will then have the option to add a new file (Word, Excel or PowerPoint) or to upload an existing document.
How can I link my plan to the calendar?
Once a plan is created, click the add to calendar icon which is on the top righthand side of the tab. A dialog will appear allowing you to choose the date and time. You have the option to choose a specific time or the whole day. If you wish to link to a period of time, select the first date and then the last date of this period. If you now select the calendar view, you will see an overview of all linked plans for your Team/channel. If you want to see an overview of your linked plans, for all Teams/channels, select to 'show all' Teams. From here, you can select and deselect which linked plans you wish to view on the calendar.
I have so many files in my plan, can I view them in one list?
Yes. On the top right of the preview pane and to the right of the 'add to calendar' option, you have two layout options. Selecting the two column icon will allow you to see all files in one list next to the preview pane. You can change back to the original layout by selecting the one column view icon.
How can I delete a plan or a file?
Select the ellipses to the right of the plan name, click the option to 'delete'. Please note, this will delete all sub plans and all associated files, meaning that all documents linked to your plan will be lost if not stored in another place.
Select the plan which contains the file to be deleted. The files are listed with ellipses to the right of the file name. Click on the ellipses and select the option to delete. The files you delete are not stored in your planning SharePoint anymore. If you want to keep them, you need to store them in another place.
What happens if I delete the beedle planning tab?
In the unlikely event of you wanting to remove the beedle planning tab, you are given the option to delete the plans and everything connected to it. All data will be removed from your SharePoint. You can also decide to not delete the data which means when you add the tab again, all data will still be there.
Who can see my files?
Within the planning tab the files can only be viewed by Teachers who are members or owners of the Team. Pupils only have access to material which the teacher has directly shared with them, from within Beedle.
How is my data stored?
All your files are stored within your SharePoint site. We securely store other data (plans, calendar entries) within EU/EEA and the service runs in Microsoft's Azure Cloud Service (North Europe), which is located in Ireland. Once you decide to delete the plan with its linked documents, they will also be deleted in our database. 
For further information regarding Data Storage, Personal Data and Web Storage, we advice you to read our Privacy Policy.
Why does Beedle require administrator consent for first use?
When Beedle is added into Microsoft Teams at a school / tennant for the first time, administrator consent is required.
Beedle requires consent for the following permissions from Microsoft Graph:
Group.Read.All – Beedle requires this permission to read information about the current user´s groups, teams and channels, so it can present them with a list of their teams and channels and also to detect if a user is an owner or a member of a specific group/team.
Sites.FullControl.All – Beedle requires this permission to lock down files and folders to only owners of the group by default, unless they chose to share specific files with members of groups. 
User.Read.All – Beedle requires this permission to get information including names of owners / members in teams and channels.
Beedle operates according to the requirements of GDPR and ISO-27001 information security standards and will use all third party data responsibly and only when necessary.
To view our privacy policy in full, please CLICK HERE.
To grant Beedle admin consent, please CLICK HERE and follow the instructions.
I'm stuck on the screen "Please wait while your files are being set up" What can I do?
If you get stuck on screen showing the message "Please wait while your files are being set up", it is very likely that your Firewall is blocking Beedle from getting access.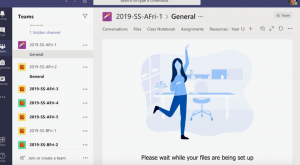 Please add Beedle to your firewall's exclusion list or contact your administrator to resolve this issue.
Ready To Get Started?
support@beedle.co